Introducing Pitbull Tracker!
A program by Cheryl
uberfox@hotmail.com
Features
* Highly feature packed
* Assign ports
* Set server expire time
* Synchronize with a MySQL database for easy showing the Tracker on a website
* Anti-Spam features including a client Anti-Spam
* Add your own fake servers with any information you desire as many as you desire
* Easily ban any IP (supports wildcard) and the servers will be removed if they are already added supports infinite bans
* Filter out servers you dont want using words or regexp or only allow servers with port 5500 etc
* Access control with either free access, password only or username and password required
* Log everything to main window and to text file
* Automatically clone other trackers and add their server lists to your own
* Unlimited Support
* Easy to install and use
Latest download ( 5.1.0 )
Click here to download and begin using Pitbull Tracker!
(If the version number above has changed you should probably download the new version we make big improvements all the time)

Required Runtime Libraries
Microsoft .NET Framework 4.8
Microsoft Visual C++ Runtime 2010
Microsoft Visual C++ Runtime 2015-2022
(These must be installed for Pitbull Tracker to work properly!)

Make sure to read the Readme.txt!

Remember Pitbull Tracker is Release Candidate software and is not entirely finished yet but it is ready for general use please report any bugs to Cheryl or the DEV server.

Go back to UberSoft.org
Here is a screen shot of the main window as you can see it can chat to users in real time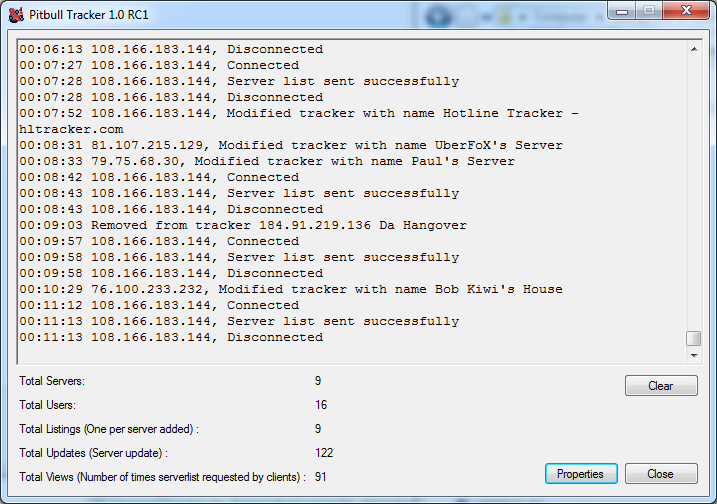 Here is a few screenshots of the properties window to show a how it looks



We hope you enjoy Pitbull Tracker! as much as we enjoy making it.